Tebon Clinic we have the best body pressure therapy equipment in Malaga, dedicated to aesthetic medicine to combat flaccidity and cellulite, fluid retention, weight loss aid and as a pre and post liposuction supplement. In addition, our pressure therapy treatment stimulates the immune system, helps lower blood pressure, tones muscles and joints, relaxes the muscles, strengthens connective tissues, stimulates motor nerve points, relieves stress, tension and relieves muscle spasms.
The aesthetic medical treatment of pressotherapy consists of applying air that causes positive upward pressure from the soles of the feet to the abdomen. For this, the patient puts on boots, sleeves or girdle that are inflated to produce pressure that promotes blood circulation and oxygenation throughout the body, thus achieving a firmer, smoother and freer skin fat and avoiding the pains of tired legs or sleeping limbs.
We can perform it, both in lower limbs, upper limbs and abdomen.
With our pressure therapy treatment, combined together with other treatments such as carboxiterapia or mesotherapy, we will achieve greater benefits and obtain better results.
By itself, the benefits are not going to be so remarkable; we must combine them with a good diet, daily exercise and a good intake of water.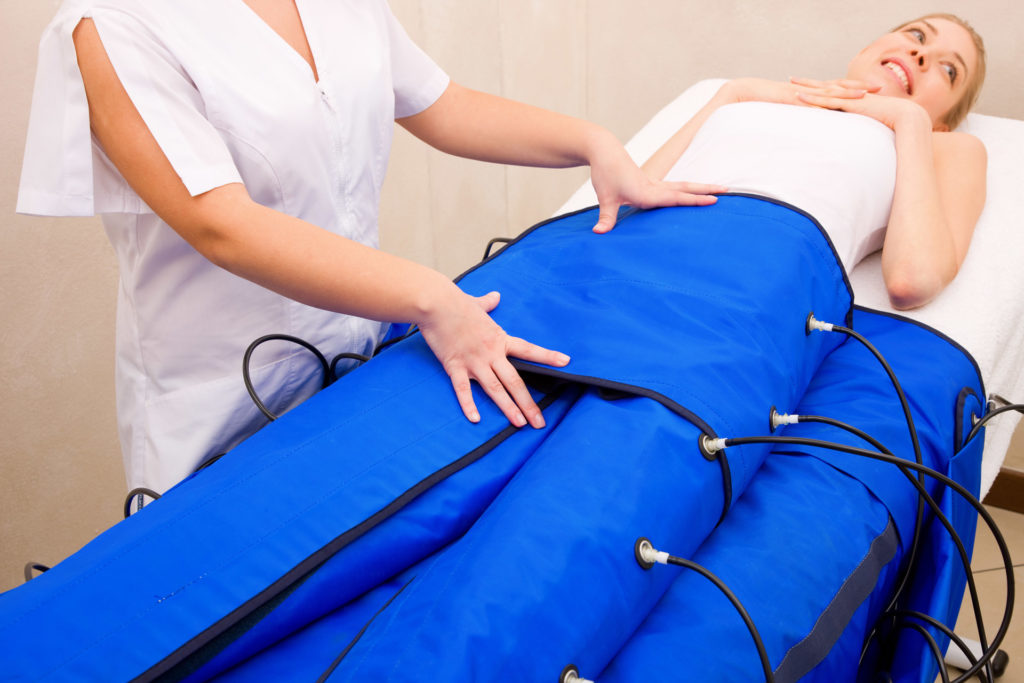 The sessions
The duration of the session is 30-45 minutes, depending on the benefit we want to obtain. You will notice a relaxing massage in the treated area and a small pressure, no pain or discomfort.
The patient can resume normal daily routine immediately.
Frequently asked questions