The thigh lift is a surgery focused on improving the shape and firmness of the legs for any of the following reasons: correct a decrease in the volume of thighs after a significant reduction in weight or improve the body contour that may have the skin of her thighs off-hook.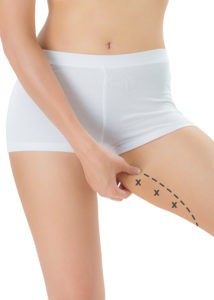 Based on the firmness of the skin and the conditions of your body in the first consultation we will explain the most appropriate techniques in your particular case. You have to explain your expectations sincerely, and we will tell you the advantages, risks and limitations of the possible treatments.
The intervention is performed in a clinic or hospital under general anesthesia, usually hospital admission will be at least one day. The surgery lasts about two or three hours.
The incision can be made either only on the inner side of the thigh near the groin or it may be necessary to take it to the gluteal fold. The choice for the incision is placed in the least visible area as possible. Sometimes in thigh and gluteal lifting it may be necessary to do a circulate incision. Do not forget that the incisions will be proportional to the amount of excess skin, and that to eliminate this there is no other possible way to avoid scars. Usually before the removal of the excess skin, a liposuction will be performed to facilitate the traction of the skin.
Then the legs are wrapped with a band to perform compression in the area and avoid complications.
For a few days you will feel tired and upset, most of the discomfort will subside with the prescribed medication. You should be resting in bed for one or two days, without stressing the sutures. You will be able to go back to a normal life without excessive tensions after a week.
The strange sensations in the skin and swelling will disappear in a few weeks.
Frequently asked questions
As in any surgical procedure, there are risks associated with surgery and anesthesia, as well as specific complications of this procedure.
In the hours immediately after surgery, bleeding can cause discomfort and edema. This improves with the placement of drainage to evacuate blood from the wound in these early hours. Even so, there is a small percentage that show bruising and infection.
There is also risk of wound dehiscence (slight openings in the wound) if the skin has a high tension, so you have to be very careful with the movements of the legs during the first weeks.
Some women report areas of skin with decreased sensitivity near the incisions. These symptoms usually disappear over time, but may be permanent in some patients.
The scars will be proportional to the amount of excess skin that needs to be removed. After the surgery the scars will be somewhat hardened and pink for at least six weeks but in some cases this hardening can last a few months. With time the scars will fade until they become less evident.